Saughtonhall
United Reformed Church




Saughtonhall
United Reformed Church


Updated 9th November 2020
Forthcoming Events Information News
Welcome to the Saughtonhall Church web site. We are a local community based United Reformed Church in central Edinburgh, which bears witness to the Good News of God's grace shown to us in Jesus Christ. We aim to be 'Christ's people, transformed by the Gospel, making a difference to the world' .
Our church services begin at 12.00 noon each Sunday, when you will be most welcome to join us. Refreshments are served after the service. Read more>>
Click here for daily bible reading and prayer.



'A reflection by telephone'
0131 322 1474
Available all week from Sunday.
Local call rates
'In order to contain the spread of Covid 19 (corona virus) and in line with the Government advice, Sunday Worship at Saughtonhall United Reformed Church, is suspended until further notice.
We are working on ways to stay connected and offer worship.
BLYTHSWOOD CARE
Shoe Box Appeal 2020
Sadly, Saughtonhall's first attempt at filling shoeboxes for Blythswood Care was rather scuppered by the Lockdown.
However, despite the lack of social contact over the past six months or so, we have managed to fill twenty-one boxes. A great result!
The boxes have now been delivered to the collection point along with a cheque for £65 to help with postage costs.
Sincere thanks to all who helped to make this possible by donating time, goods and/or cash.
The sky's the limit for next year!!
May we suggest adding one or two small items to your shopping trolley each week?
"Mony a mickle maks a muckle!!"
Please ask Edith, Hazel
or Irene for details about
what items go in the boxes.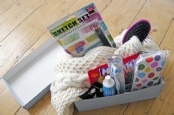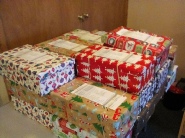 Join us for live Sunday
Worship on Facebook
12 noon ~ Saughtonhall URC Facebook
or 10am ~ Duke Street URC Facebook
Advent Adventures
Facebook @ 6pm on a Sunday beginning 29th November
Something for all ages! Join us as we journey through Advent
and prepare for Christmas with
stories, music, games and crafts. more info here